Bonita, CA Daycare
795 Corral Canyon Rd, Bonita, CA 91902
Welcome to La Petite Academy of Bonita, CA!
Hello and welcome to our wonderful educational daycare in Bonita, CA!
I am Lucy Cordero, the Academy Director of this great school, and I have been working with children for 17 years. I love to see them learn in our
infant care
and
preschool programs
and love seeing the smiles on their faces when they arrive in the morning and the pride they feel when they accomplish a goal, no matter the size.
At La Petite Academy, we offer many age-specific programs that provide the perfect foundation for learning and child development.
It's important to me to be a leader in early education and I feel a great sense of accomplishment watching children grow and succeed. La Petite Academy in Bonita has the most caring, loving teachers that a parent could ask for. We work with individualized lesson plans to accommodate the needs of our children, while providing stimulating activities to keep learning fun. Our teachers are dedicated to providing the highest quality early childhood education!
We value our relationships with parents and know that our child care in Bonita, CA, will provide your child with the tools and skills he or she needs to succeed. Call us today to schedule a tour!
CA State License #: 376600090/376600091/376600092
A Day In The Life Of Our Students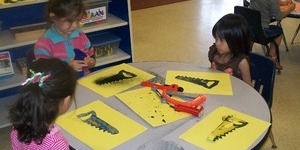 Learn more about how the highly trained teachers of La Petite Academy instill the critical-thinking, social and emotional skills every child needs to succeed in Kindergarten and beyond. All in a safe, nurturing environment.