Belleville, WI Daycare
11 Karl Ave, Belleville, WI 53508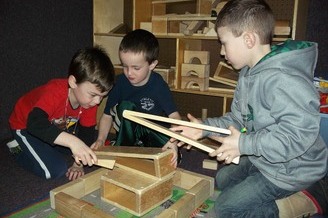 Summer Camp
Our Summer Camp program, Adventures in Fun, is a great way to keep your child growing and developing during the summer.
6 Weeks to 5 Years
Younger children enjoy our outstanding child-care program and standard educational lesson plans. There are also plenty of special activities and extra-special visitors. Kindergarteners love our school-readiness program.
6 to 12 Years
School-age children benefit from our workbook-based school-readiness programs that focus on math, science and literacy. They also participate in fun activities that include art, sports, nature, music, cooking and drama.
All activities are conducted in the safe, secure and nurturing environment for which La Petite Academy is famous.
For more information on our Summer Camp Program, schedule a tour.
The staff sincerely cares about the children and families that attend their school. The communication is excellent, and they are always looking for opportunities to implement improvements in the center. As a mom, I truly appreciate all that the management & staff provide in the care of my daughter.
-Dawn S.
Belleville, WI
Come Visit Us!