Belleville, IL Daycare
2390 Lebanon Ave, Belleville, IL 62221
Welcome To Our School
Thank you for visiting La Petite Academy educational
preschool in Belleville
, IL. My name is Ramah Crowell and I am the director. I have been with La Petite Academy since June of 1994. At La Petite, our
infant child care
and
preschool programs
provide the perfect foundation for learning and child development.
Our school is nationally accredited by NECPA (National Early Childhood Program Accreditation). We received the award in December 2010 and have upheld the accreditation standards. The standards that we adhere to are far higher than the State of Illinois' Child Daycare Licensing Standards.
Everyone who is involved with this school is treated with respect. I strive to create a warm and welcoming environment. I maintain an open-door policy for anyone who would like to talk. I work hard to ensure that families develop strong relationships built on trust and integrity within the academy.
I take great pride in hearing children speak about the great day they had here. I am fortunate to have a tremendous staff that is dedicated to our children and families. Several staff members have more than five years teaching experience with La Petite Academy. All of our staff receive monthly training.
We value the relationships we have with our families and work hard to involve them. We offer opportunities for parents to volunteer, and attend different events we host throughout the year. I truly enjoy each day I spend with the families and the staff at La Petite Academy. I feel like making a difference is important. I welcome any questions at any time.
Schedule a tour of our wonderful La Petite educational daycare in Belleville, IL, today!
We are accredited by
To be accredited by a nationally recognized organization, a school must promote established "best practices" in the social, emotional, physical, language and cognitive development of children.
A Day In The Life Of Our Students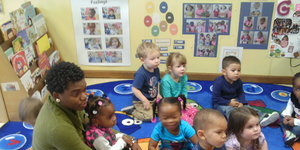 Learn more about how the highly trained teachers of La Petite Academy instill the critical-thinking, social and emotional skills every child needs to succeed in Kindergarten and beyond. All in a safe, nurturing environment.