Alexandria, VA Daycare
6175 Charles Arrington Drive, Alexandria, VA 22310
Welcome to La Petite Academy of Alexandria, VA
Welcome to our wonderful La Petite Academy educational daycare in Alexandria, VA! My name is Mariana and I am the director. I'd like to take this opportunity to tell you about myself, as well as the programs and staff here.
I have a bachelor's degree in early childhood education and I bring more than 35 years of experience in the teaching field. I have spent 22 years as a manager for La Petite in Alexandria. Whether it's providing loving
care for infants
or participating in activities in
our preschool programs
, I really enjoy interacting with all of the families at the school and knowing I help make a difference in their lives.
Our programs aim to develop your whole child. That means we work to sharpen their academic skills, along with developing their growing bodies. Every piece of our curriculum contains age-appropriate activities that your child will enjoy and learn from.
We have an outstanding group of teachers on our staff that deliver the curriculum. Together, they have more than 200 years of experience in early education. All our lead teachers have degrees related to early childhood education. One has a master's degree in music, four have recently acquired their CDA (Child Development Associate certification) and two are Spanish teachers. Our staff also includes two accredited food managers.
If you are looking for an education-driven daycare in Alexandria, VA, then give La Petite Academy a call to schedule a tour today! We look forward to meeting you!
A Day In The Life Of Our Students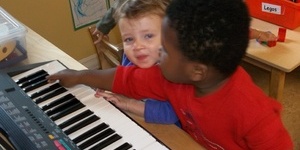 Learn more about how the highly trained teachers of La Petite Academy instill the critical-thinking, social and emotional skills every child needs to succeed in Kindergarten and beyond. All in a safe, nurturing environment.