Alamo Heights, TX Daycare
318 W Sunset, Alamo Heights, TX 78209
Welcome to La Petite Academy in Alamo Heights, TX
I'd like to take this opportunity to welcome you to our La Petite Academy educational daycare in Alamo Heights, TX. My name is Kim Rymers and I am the Academy Director. I have a child development associate certification and more than 20 years of experience as a teacher and manager. Drawing from this experience and education, I can confidently say La Petite offers the best
infant daycare
and
private preschool
in Alamo Heights, TX.
Our school is a Texas Rising Star school. We received this award back in May of 2011 and we continue to meet the needs of the program's standards.
I personally enjoy interacting with our families and seeing our children grow and develop into lifetime learners. I enjoy the personal relationships my staff and I form with parents and children and truly feel like an extension of their families.
We provide students with a safe and nurturing environment that will enhance learning through interactive and educational activities and lesson plans. We value the relationships we have with our families and make it a priority to keep them involved with constant communication & family teacher conferences.
We believe you will see your child's accomplishments the same way we do - as a product of what our excellent La Petite Academy educational day in Alamo Heights, TX, together with the staff and the curriculum, has to offer.
A Day In The Life Of Our Students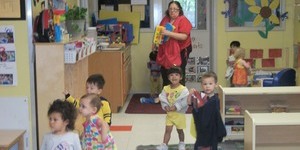 Learn more about how the highly trained teachers of La Petite Academy instill the critical-thinking, social and emotional skills every child needs to succeed in Kindergarten and beyond. All in a safe, nurturing environment.